SIRE 2016 Convention Advisory Committee
SIRE Convention is privileged to have a cross section of the industry represented on the inaugural Advisory Committee. With key leaders drawn from the global robotics arena, each individual brings with them vast knowledge and experiences to the table. The key role of the committee is to provide clarity and direction in the curation of the convention programme, themed, Is Robotics For My Business? Learn the path to actual adoption of robotics.
International Advisory Panel
Dr Marcelo Ang
National University of Singapore
Marcelo H. Ang, Jr. received the B.Sc. degrees (Cum Laude) in Mechanical Engineering and Industrial Management Engineering from the De La Salle University, Manila, Philippines, in 1981; the M.Sc. degree in Mechanical Engineering from the University of Hawaii at Manoa, Honolulu, Hawaii, in 1985; and the M.Sc. and Ph.D. degrees in Electrical Engineering from the University of Rochester, Rochester, New York, in 1986 and 1988, respectively.
His work experience includes heading the Technical Training Division of Intel's Assembly and Test Facility in the Philippines, research positions at the East West Center in Hawaii and at the Massachusetts Institute of Technology, and a faculty position as an Assistant Professor of Electrical Engineering at the University of Rochester, New York. In 1989, Dr. Ang joined the Department of Mechanical Engineering of the National University of Singapore, where he is currently an Associate Professor, with a Joint Appointment at the Division of Engineering and Technology Management.
He also is the Acting Director of the Advanced Robotics Centre. His research interests span the areas of robotics, mechatronics, and applications of intelligent systems methodologies. He teaches both at the graduate and undergraduate levels in the following areas: robotics; creativity and innovation, applied electronics and instrumentation; advanced computing; product design and realization. He is also active in consulting work in these areas. In addition to academic and research activities, he is actively involved in the Singapore Robotic Games as its founding chairman and the World Robot Olympiad as a member of the Advisory Council.
Mr Oliver Tian
President, Singapore Industrial Automation Association
Immediate Past President, Computing Alumni, NUS
Founding Member, IoT Asia Show and Asian Robotics Week
CEO and Director, Hutcabb Services
Mr. Oliver Tian is the CEO of HutCabb Services and the current President of Singapore Industrial Automation Association (SIAA).
Mr Tian is an industry veteran with more than 28 years of IT consulting for Governments and Multinational Enterprises across the Asia Pacific region. He began his consulting journey with Accenture (then Arthur Andersen Associates), and gained regional experiences with > 150 organizations across the Asian countries over the past three decades. Oliver was the Regional Director for HP Education as well as the General Manager for ERP Services in HP Consulting.
Mr Tian grounds his strength in business processes and advanced technologies, such as Objects, Case-Base Reasoning and Business Intelligence. Coupled with industry experience spanning sectors in banking, telecommunications, government, healthcare, manufacturing and distribution, Oliver has successfully engaged with clients around optimizing the use of technology and human capital to meet business needs and drive. In HutCabb Services, Mr Tian and his team aim to help their Clients create better business opportunities and lend a platform for higher quality of life through Ubiquitous Computing.
In the mid-1990s, Mr Tian worked closely with the Center for International Cooperation for Computerization (CICC) as well as Ministry of International Trade and Information (MITI) to formulate strategic programs to aid Singapore's IT Computerization program with assistance from Japan International Cooperation Agency (JICA). In 1991, Mr Tian was awarded JICA's Colombo Scholarship Plan to acquire knowledge on advance technologies from Japan to spearhead National Initiatives in Singapore. In 2014, Mr Tian won the Asia Pacific Entrepreneurship Award (Most Promising Entrepreneur category) by Enterprise Asia.
Mr Tian is currently a panel member on the IoT Smart Retail Forum @ IoT Asia 2015 and works closely with the Smart Retail Centre in Taiwan and other Retail Digi-solution Providers in Asia and North America. Mr Tian is an ex-Board Member of Industry Advisory Council of the School of Computing-NUS as well as an ex-member of the Alumni Advisory Board to the President of NUS. Mr Tian has been an ex-officio of the Singapore Computer Society as well as the National Representative to IFIP (International Federation for Information Processing under UNESCO). Due to his dynamic leadership and active involvement in the industry, he is currently serves as President of the Singapore Industrial Automation Association of Singapore and the Immediate Past President of the NUS Computing Alumni.
Catherine Simon
Innoecho
About Innorobo
Innorobo, Europe's leading event dedicated entirely to the robotics sector and its innovations, has created a unique robotics ecosystem to speed up the time-to-market of innovations and technologies that provide solutions for the major challenges our world is facing. Innorobo brings together robotics companies from around the world alongside research laboratories, start-ups, inventors, public and private funding providers, institutional players, strategy and innovation decision makers from major international groups and SMEs and the media. Innorobo - A Human Robotics Event. www.innorobo.com
About Innoecho
An Impact Consulting firm focusing on business development through innovation and expertise in worldwide robotics markets, Innoecho brings together a vast business ecosystem of disruptive technologies for sustainable humankind. Throughout the year, Innoecho drives a community of over 3,500 robotics companies worldwide with nearly 10,000 leaders and decision makers who work together through open innovation and see robotics technologies, products and services not only as opportunities for technology-fueled growth and competitive advantages, but also as a means for human progress. Innoecho - A Human Approach to Disruptive Technologies. www.innoecho.com
Catherine Simon
Innoecho™ SAS has been found in November 2011 by Catherine Simon, consultant in strategy and international business development in the field of new technologies. A graduate of EMLYON Business School and INSEAD certified coach, Catherine has 25 years of experience at management level within or serving innovative SMEs in consumer electronics and robotics. Driven by a genuine interest to prospective and innovations that contribute positively to society, it is one of 100 personalities who make the French Tech according to Challenges (March 2014). She won the "Trophy of Economy of Women" in 2014 in the category New technologies in Rhône-Alpes. She is the guest of Les Echos in 2016 for the special edition "La Relève", Les Défricheurs which brings together 200 French personalities who are resolutely turned towards the future.
Dan Kara
Research Director, Robotics
ABI Research
Dan Kara is Research Director, Robotics at ABI Research, an international provider of technology market intelligence and consulting services, and partner to business and technology leaders in support of strategic analysis and informed decision making. Prior to ABI, Dan was Chief Research Officer for Myria RAS, a research and advisory services firm focused on automation, robotics and intelligent systems trends. Dan was also President of Robotics Trends, an integrated media and research firm serving the personal, service and mobile robotics markets. He was the developer and past chairman of the RoboBusiness Conference and Exposition series, the RoboDevelopment Conference and Exposition series, the RoboNexus Conference and Exposition series, and the CES Robotics TechZone. In addition, Dan was the publisher of RoboticsTrends.com, an online portal covering the intelligent, mobile robotics market. Dan has also worked as Executive Vice President of Intermedia Group, Director of Research at Ullo International, and Chief Technical Officer of Software Productivity Group.
Daniel Theobold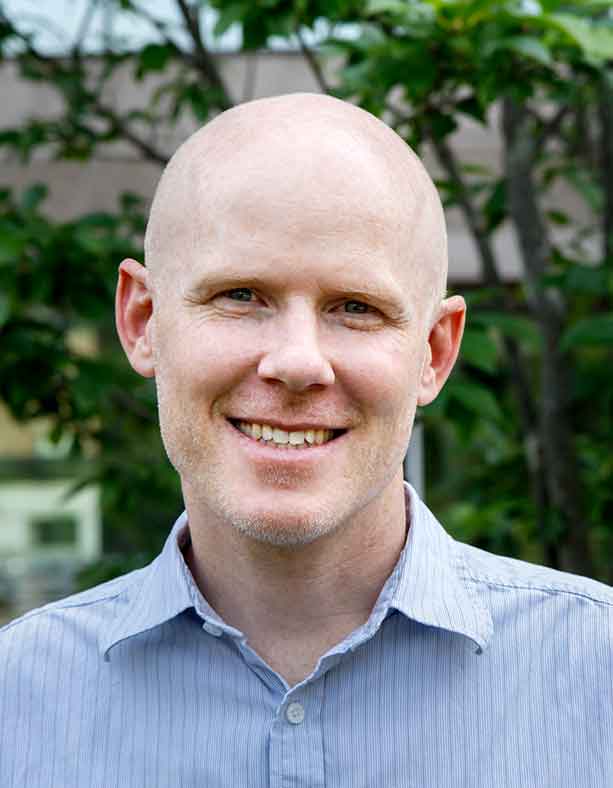 Vecna Technologies, Inc
Daniel co-founded Vecna in 1998 with the mission to empower humanity through transformative technologies. Without outside investment, Vecna grew to be a world leader in healthcare and robotics, also making significant contributions to green energy and sustainable agriculture.
He pays Vecna employees to spend 4 hours a week doing community service.
Top of his class at MIT, he studied electrical, mechanical, and software engineering, worked on Mars rovers, and received fellowships from Ford, Hertz, and NSF. Daniel also serves as president of MassRobotics.
Bruce Macdonald
NZ Robotics, Automation and Sensing
Bruce completed a BE (1st class) and PhD in the Electrical Engineering Department of the University of Canterbury. After working with NZ Electricity for three years and a year at the DSIR in Wellington, he moved to Canada and spent ten years in the Computer Science Department of the University of Calgary.
Returning to New Zealand in 1995, he joined the Department of Electrical and Computer Engineering at the University of Auckland. The department was then starting a new development in computer systems engineering and he was involved in setting that up. Bruce also started the Robotics Laboratory.
His long term goal is to design intelligent robotic assistants that improve the quality of people's lives, with primary research interests in human robot interaction and robot programming systems, and applications in areas such as healthcare and agriculture. He is the director of the department's robotics group and the leader for the multidisciplinary CARES robotics team at the University of Auckland. He is the leader of the Faculty of Engineering research theme Technology for Health, and Chairman for NZ's robotics, automation and sensing association. For NZ's national science challenge Science for Technological Innovation, he is the theme leader for Sensors, Robotics and Automation and responsible for Capacity Development activities.
One of his current research programmes is to develop robots to help care for older people, which is a multidisciplinary project undertaken jointly with Korean researchers and companies.
Another current research project is for multipurpose orchard robotics, a joint project with NZ researchers and companies.
Michael Leong
Chief Operating Officer
HOPE Technik Pte Ltd
Michael is appointed Chief Operating Officer of HOPE Technik and has been responsible for executive duties pertaining to finance, corporate development and administration for the past few years. During this period, the company has successfully obtained various funding for a number of projects.
Michael has held various roles such as design engineer, project manager and manufacturing team leader since he co-founded the company in 2006. He has also led the company to win the OCBC/SPH Emerging Enterprise Innovator Award in 2012.
Prior to starting HOPE Technik, Michael worked at Asian Touring Car Championship from 2005 to 2007 and was the Chief Engineer in the company's professional race team.
Since young, Michael has always strived to achieve the best. During his conscript National Service, he was awarded Police Commissioner's Award, one of only three recipients annually, and holds a rank of Assistant Superintendent in the Singapore Police Force (reservist appointment).
Michael's fascination with machines was in-grained since young and he has licenses for light aircraft, boats, motorcycles and motor vehicles. As a hobbyist Cessna pilot, he won the precision landing competition in 2002 at the national level. Michael carried the same spirit into HOPE Technik, to be the best.
Samuel Chong
IE Singapore

Samuel Chong is a Manager with the Manufacturing Division at International Enterprise Singapore. His interest topic is on Industry 4.0 or "digitisation of the manufacturing supply chain" and how it will disrupt and transform the business models of manufacturers.
Samuel works closely with Singapore companies to help them compete internationally and ride on the wave of global industry 4.0 adoption.
Dr Ho Chin Keong
Lab Head of Energy-Aware Communications Lab, Deputy Department Head of Cognitive Communications Department
Institute for Infocomm Research, A*STAR
Chin Keong received his Ph.D. degree at the Eindhoven University of Technology, The Netherlands, where he concurrently conducted research work in Philips Research. His research work focus on energy-efficient communications especially with energy harvesting constraints. He received the IEEE Marconi Prize Award in Wireless Communications in 2015. He is the Principal Investigator for several projects, including robust WiFi communications and robot-assisted shelfreading.
Dr Zhou Chang Jiu
Centre Director of the Advanced Robotics and Intelligence Control Centre (ARICC)at Singapore Polytechnic (SP)
Chiefly responsible for the Robotics &Maker Academy (RMA) co-funded by IDA and SP. Dr. Zhou is the founder of the Humanoid Robotics Group, Robo-Erectus, one of the foremost leading teams in the RoboCup Humanoid League, which has won 3 gold and 15 silver medals in international robotics competitions. His team also developed the first CoSpace educational robot in the world, which has been made into an official competition platform for RoboCup. Dr. Zhou was the General Chair of RoboCup 2010 in Singapore, the largest and most prestigious robotics event in the world. He is also a trustee of the RoboCup Federation and the founding chairman of the RoboCup Singapore National Committee. Dr Zhou was awarded the Public Administration Medal (Bronze) in 2011 by the President of the Republic of Singapore for his contributions to robotics education and research.
Andy Kwek Soo Keng
Executive Committee Member, SIAA Senior Lecturer, Temasek Polytechnic
Andy has been in the educational profession specializing in the teaching of technical fundamental subjects. He has been employed as a Senior Lecturer at Temasek Polytechnic and he is currently responsible for managing and co-ordination of the Mechatronics diploma program at the School of Engineering. The involvement with SIAA Council definitely gave exposure to academicians a better perspective in the industry trends and this definitely benefits the teaching of our next generation of technologists.